Beer Kit, Brew your own IPA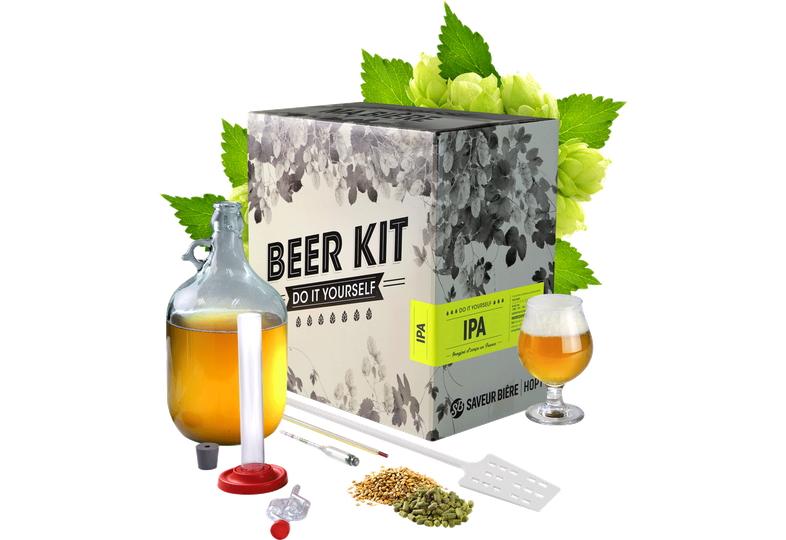 This is the ideal pack for amateurs & beginners that includes all essential elements to brew a 4L of blond IPA beer at you own place!
Kännetecken
| | |
| --- | --- |
| | Mellannivå |
| Beer Style Family | IPA |
| | tout grain |
Tålig förpackning
Gratis returnering
Kundtjänst
Beskrivning
Beer Kit is the ideal brewing kit for beer lovers!
With this kit created in France, you can make your own home brew. It looks challenging but we guarantee it's not! In only a few weeks in your kitchen and with the same ingredients as a professional brewer you can create your own beer. Brewing with Beer Kit is fun, anyone can do it and we can prove it to you, check out this video!
All utensils and raw materials you need to start using your new kit are included in it. Besides, you already have in your kitchen the additional equipment required (stove, sink, funnel, among others). The utensils are reusable and you have plenty recipe options by varying the ingredients. By following step by step the stages of the brewing manual and with a little patience, you can try up to 4L of beer and repeat according to the seasons and tastes.
Your beer will surprise those who taste it and gradually you will transmit your passion for brewing to your friends and your loved ones. You just have to try it. Cheer up!
The Beer Kit contains all the instruments of a brewer:
- A 12-page manual for brewing with full instructions
- 1 spatula
- A 5L demijohn glass
- 1 rubber hole plug
- 1 bubbler (control of gas exchange)
- 1 thermometer
- 1 hydrometer
- 1 graduated cylinder
- 1 hop sack or hop bag
- 1 automatic syphon
- 1 bottle brush
- 1 bag of disinfectant

The ingredients are packaged in empty to preserve freshness:
- 1.2 kg of crushed barley malt
- 15 g of Saaz hop pellets
- 5 g of Hallertau Tradition hops pellets
- 1 packet of yeast
Tålig förpackning
Gratis returnering