Big Mouth Bubbler - 6.5 Gallon Plastic Fermenter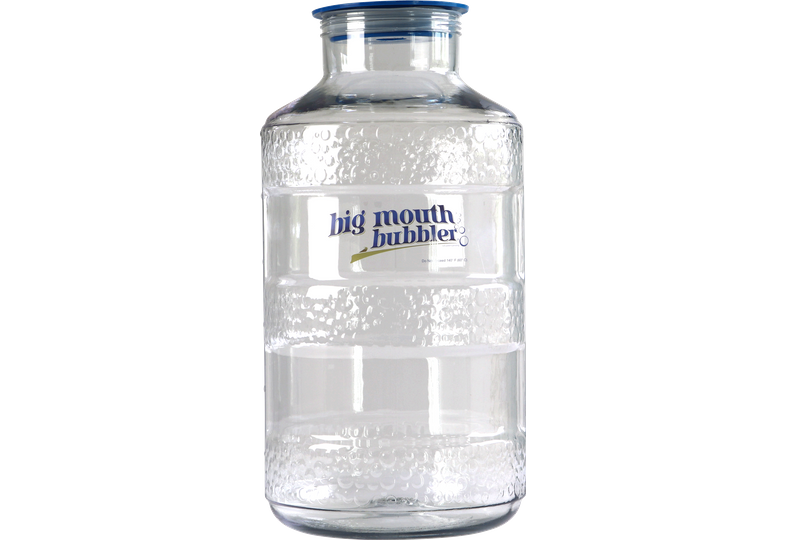 A quantum leap in homebrewing - made in The USA
Tålig förpackning
Gratis returnering
Kundtjänst
Beskrivning
 The Big Mouth Bubbler® Plastic is a virtually bullet-proof, fool-proof fermenter, featuring 3" reinforcing ribs, a concave bottom and a reduced base diameter, making this one robust mother! Furthermore, its small footprint means you save precious cellar space, and allows for easy storage in a standard fermenting bucket.
Includes: Big Mouth Bubbler® - 6.5 Gallon Plastic Fermenter.
You will also need: Small Universal Stopper & airlock See below to choose your options
Better than a demijohn, the Big Mouth Bubbler® Plastic allows you to keep the lid on during testing and transfer, avoiding exposure to oxygen and preventing off flavours, while the standard sized ports to allow the use of fermentation monitoring equipment.
As well as adding strength, the concave bottom also allows spent yeast to settle out after fermentation. The graduations make measuring a piece of cake. And the revolutionary Big Mouth makes cleaning easy by allowing you to get straight to stuck-on yeast deposits, and offers total control over flavouring additives and dry-hopping.
*The new Big Mouth Universal Lid included in the kit fits all Big Mouth Bubbler® Fermenters.
The Big Mouth Bubbler® Universal Lid is exactly like a standard demijohn stopper, only bigger! ...and it's just as easy to clean and sanitise, and fitting is easy too. The ridged silicone seals ensure pests are refused entry, while the unthreaded design lets the lid move, preventing run-away fermentation from over-pressurising the fermenter.
The optional Dual Port Lid allows you to use a thermostat sensor. Ensure precise fermentation temperatures every time with the ThermoStar Dual-Mode Digital Temperature Controller thermostat.
The lid port works with either a standard 6.5 rubber bung or the Northern brewer Small Universal Stopper.
Please note: NEVER fill your Big Mouth Bubbler® Plastic fermenter with very hot liquid. Do not exceed 60°C!
BIG MOUTH BUBBLER® Specifications:
Capacity:             5 gallon (US) 6.5 gallon (US)
SKU:     
Weight:               3.4lbs/1.6kg       4lbs/1.8kg
Height (w/lid, closed):   22"/56cm            23"/59cm
Diameter:10"/26cm        11"/28.5cm
Mouth:5.5"/14cm           5.5"/14cm
Fermenter material:PET               PET
Note: To avoid scratching the inside, use a soft cloth for cleaning Standard bottle brushes with scratch the inside of your plastic fermenter, allowing contaminants to stay behind after cleaning. A warm cleaning solution will clean thoroughly. Do not use very hot water on any kind of plastic fermenter. The Big Mouth Bubbler® use a standard demijohn dry inverted..
Top tip: Keep the cardboard packaging and use it as a jacket or cover for your fermenter.
6.5-gallon fermenters are the ideal solution for primary fermentation for hombrewing beer or wine. The extra room at the top allows space for a krausen (yeast crown) to form on a 5-gallon batch of beer. This product is also available as a 5-gallon secondary fermenter.
Tålig förpackning
Gratis returnering